The official video of "in a Landscape" by John Cage interpreted by Murcof x Vanessa Wagner is directed by Life Observing Life. The duo composed of Murcof and Manuel Ros sets in motion a contemplative journey into the natural beauty of wild landscapes. During the video, a monolith, a core visual element of "Statea"`s cover artwork, is moving in various natural areas. This is 2016 - Forest Space Odyssey. 
"In a Landscape" was premiered on Monday by The Creators Project, Groove, Tsugi and Soundwall. We took the time to go deeper into the ideas "behind the scene" with the directors.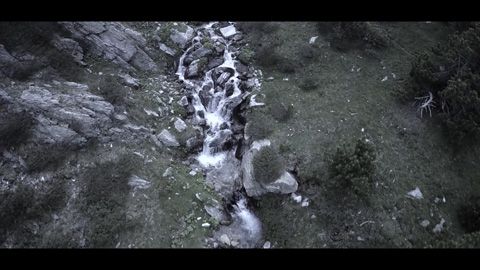 John Cage`s "In a Landscape" was scored in 1948 for Louise Lippold's eponymous dance piece. The choreography of natural elements is the main idea behind the video. It takes place during a complete cycle of day and night.
"As Life Observing Life our main focus is on recording natural environments, and for this video, although we did have a storyboard of sorts, we ventured into the Pyrenees with an open mind, to see what we would find without expecting anything in particular, more as witnesses than anything else, and what we found is what's on the video."
The videos were recorded with three full HD cameras employing a drone, a steady cam, a slider and a rotating timer. The team also used of time-lapse video, slow-motion, macro shots and aerial shots, among other techniques.  "We began with completely unprocessed natural landscapes and as the music progresses and electronic music elements appear, we introduced subtle digital effects and the monolith."
In Arthur C.Clarke`s novel the monolith is an artifact of non-human origin built by extraterrestial species, a remote observer in search of knowledge and intelligent species. Life Obersving Life`s monolith has a slightly different nature.  
"The monolith is a rectangular form with similar proportions as the ones on the cover art of the album. It reflects on its surface the natural environment where it stands (or moves). It also stands for a kind of portal toward another location. The material of the monolith is highly reflective,often looking like metal or a mirror, but it can also turn into a more malleable element."
The monolith represents a dialog window between "the organic and the digital, the natural and the man-made, the acoustic and the electronic."  
A perfect visual analogy to the musical worlds brought together by Murcof and Vanessa Wagner on Statea.
More about Life Observing Life : Vimeo - Facebook - You Tube
Life Observing Life is an immersive, multisensory audiovisual ode to the world, the origin of life and to its natural & creative resources.
A tribute to the places where life begins and ends. A work on unknown landscapes that are strangely familiar, questioning the very foundations of the human identity.
A new symbiosis between humans & nature, where a vital energy emerges from earth : a living ecosystem that is inspired by life, a quest for sustainable and virtuous associations.