Downliners Sekt's reputation amongst the international electronic music scene was significantly heightened from their 2010-2011 trilogy of EPs – 'Hello Lonely, Hold the Nation', 'We Make Hits, Not the Public' and 'Meet the Decline' – on Barcelona's Disboot label. 
Critically acclaimed for its consistency and singular approach to modern electronic music , "Silent Ascent" released on 7th April has been lauded as their most accomplished work to date.
Available on 2LP / CD / MP3  in every good store. 
Soon on tour, 
Check out their Boiler Room sesssion on 27th March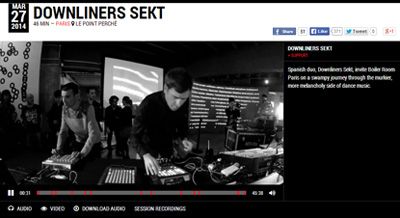 Praises on "Silent Ascent"
"It's a sculptor scraping and chiselling away at something where, almost like  Escher drawing, the act of creation becomes the work of art itself."   8/10 Clash (UK)
"Downliners Sekt are sonic somnambulists, dragging you into their woozy anaesthetised world" 8/10 Mojo (Uk)
"Silent Ascent showcases a hybrid style unique to the Barcelona pair."  XLR8R (Usa)
"Silent Ascent is an album full of confident and beautiful music that shows Downliners Sekt as mature producers and songwriters, and draws listeners in before leaving them wondering if they have really experienced the album at all or if it was just a dream." DJ BROADCAST (Hol/EU)
"Silent Ascent shows great promise" PITCHFORK (Usa)
"The album further refines their unique approach, evading any easy categorisation while providing plenty of seemingly obvious yet blurred reference points." FACT (Uk)
"Silent Ascent purposefully blends almost danceable stretches and their crescendos with perfectly intimate interludes." Exclaim (Ca)
"This one is for long, dark coach-ride" DJ MAG (UK)
"One of the finest long-players to grace the electronic music world in recent years." PHUTURE LAB (Uk)
"The pair's most fully realised work to date, filtering shadowy techno and bass through an intimate, elegantly decayed aesthetic" BLEEP (Uk) 
"Silent Ascent nous perd ainsi dans une vaste lande de rythmes, de pulsations et de bruits où se mêlent parasites de 78 tours, techno grouillante à la Border Community ." THE DRONE  (France)
"D'une grande cohésion, l'album dépasse le cap de l'heure de musique sans jamais lasser, nous laissant au contraire émerveillés par chacun de ses éléments." 8/10 SSC (France) 
"Their best album so far" GROOVE (Germany)